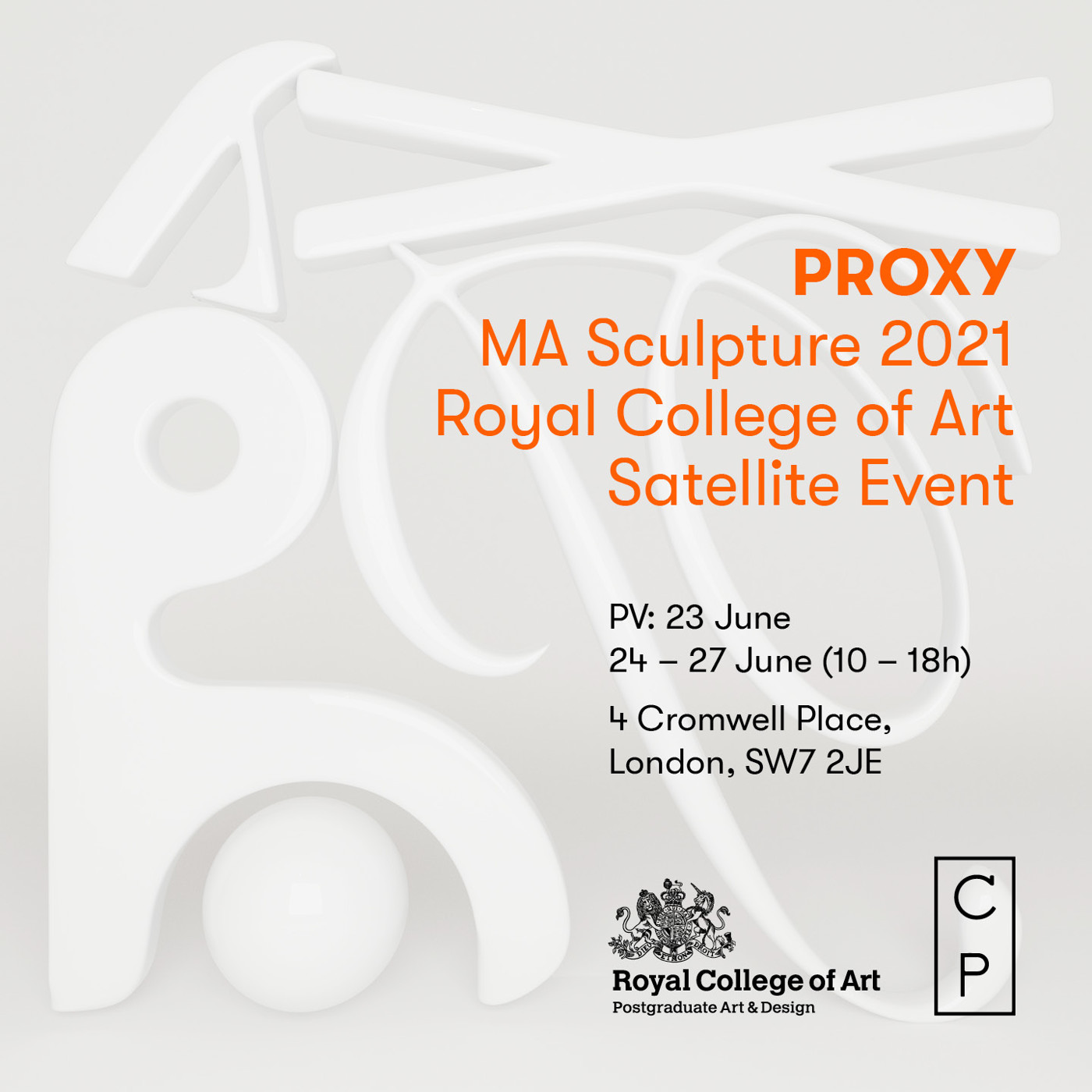 PROXY: MA Sculpture 2021, Royal College of Art, Satellite Event
4 Cromwell Place, London, SW7 2JE
24th – 27th June 2021, Opening times Thu – Sat 10am – 6pm, Sunday 10am - 4pm Please note booking is essential via https://cromwellplace.artsvp.co/5207f2
"Proxy confronts us as an absent ground, it is a title that speaks of the disappearance of older modes of orientation that faithfully held up the illusion of fixed boundaries and stable meanings. We might then understand Proxy as follows: to stand in for and to stand for; to be both here and there; to perform as an agent without instruction, and finally; to be a representative of a world that demands new modes of representation. Hito Steyerl's description of 'free fall' is important here, she writes: "As you are falling, your sense of orientation may start to play additional tricks on you. The horizon quivers in a maze of collapsing lines and you may lose any sense of above and below, of before and after, of yourself and your boundaries.'Steyerl continues: 'In falling, the lines of the horizon shatter, twirl around, and superimpose.' Could it be that this experience of verticality, of free fall, helps us to better understand the critical force
of Proxy? One thing is certain, the word proxy is situated in the space of this exhibition to stand in for a world that is currently unavailable, a world on hold until further notice." Jaspar Joseph-Lester.
The Royal College of Art's MA Sculpture class of 2021 invites you to PROXY – a satellite event of their physical showcase of their graduate study – to be held at Cromwell Place, Kensington this June 2021.
A graduate exhibition is a space where multiple sites of knowledge, production, creation and process come together. The RCA 2021 cohort share delight that the time spent researching, making, experimenting, discussing and developing can be experienced in physical form. RCA celebrates sculpture as everything and this is demonstrated with the variety and scope of the work on show. Pieces have been cast, moulded, painted, printed, collated, screened, photographed, written, performed and everything in between. The show relishes our diversity in a time when many may not have met in person, but have still forged deep connections. PROXY reflects the spaces the that students found to resided in while at (not at) RCA during the pandemic, space took on a new meaning and zoom the hinterland that enabled discussion. The work in Proxy touches on this, space, identity, transition, the environment, and while varied, a strong sense of positivity and being in the here and now shines through.
Exhibiting Artists: Albeiro R. Tomedes, Abi Braley, Alastair Kwan Alexei Izmaylov, Amba Sayal-Bennett, Ania Assadi-Sabet, Araceli Gomez Castro, Camilla Bliss, Millie Laing-Tate, Catharina Bond, Danying Yu, Deming Huang, Divya Sharma, Dorte Kloppenborg- Skrumsager, Esther Merinero, Feng Lin, Fengjin Yu, Hannah Dinsdale, Helen Wilson, Hsi- Nong Huang, Hugo Hutchins, Inês Coelho da Silva, Janina Frye, Jasper Garvida, Jenna Fox,
Jiamin Ye, Jihyun Min, Kairong Zhang, Ker Wallwork, Linda Zagidulina, Lydia Brockless, Margo
Trushina, Mila Dolman, Mingxuan Nie, Minhee Kang, Muhan Jiang, Oisin O'Brien, Po Lam Chan, RedBlack Lawrence, Ruocong Ma, Ruofan Chen, Samuel Padfield, Snyder Moreno Martin, Sophie Giller, Steph Huang, Taylor Davies-King, Woonhae Yea, Yi Li, Yuan Zhuang, Yue Zheng, Yuiko Amano.

@rcasculpture
@cromwellplace