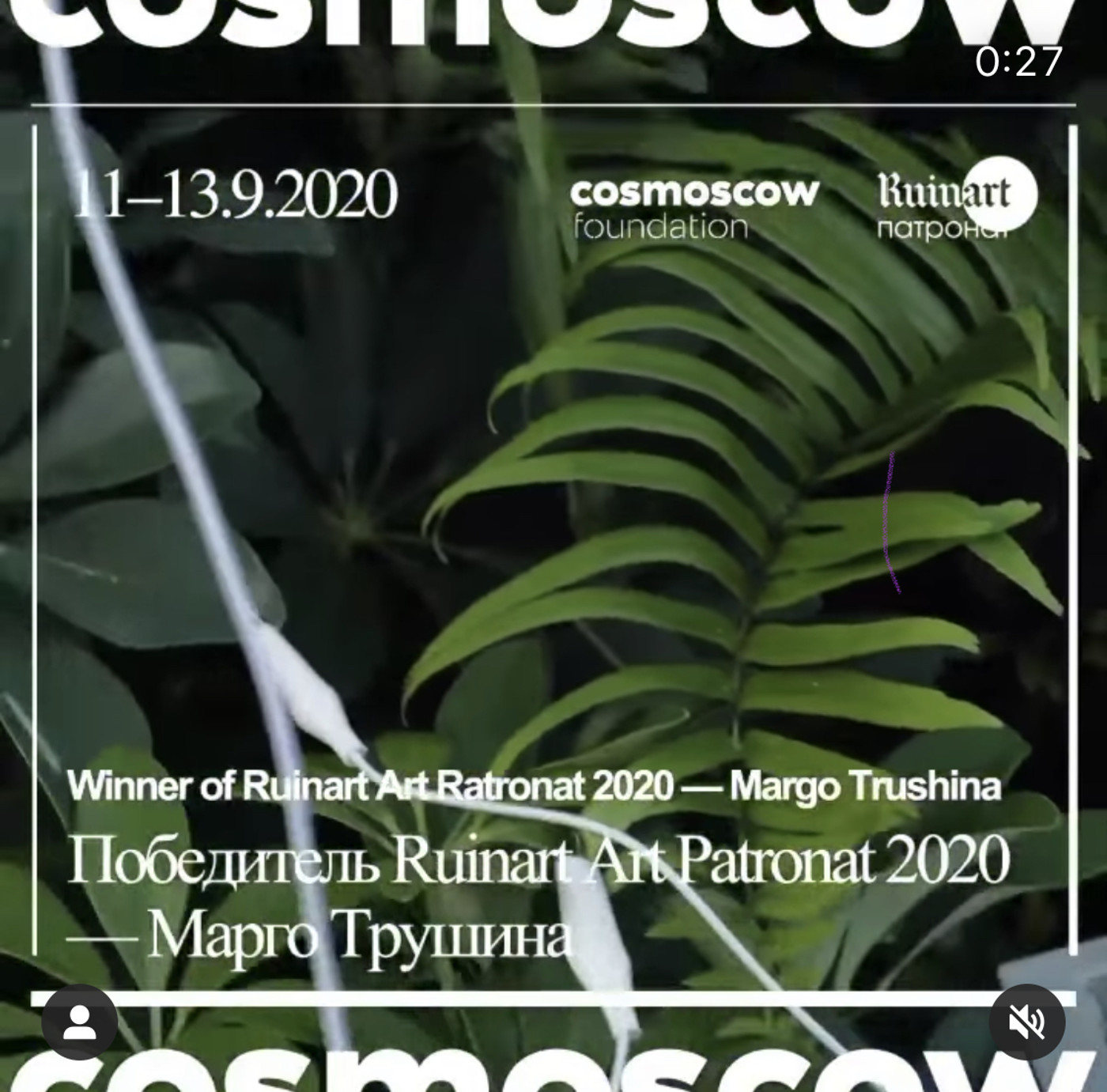 COSMOSCOW Art Fair
Ruinart Art Patronat 2020 Winner
Salon Vert / Живой Уголок
Moscow, Gostiniy Dvor
Maison Ruinart the house of Champagne and the Cosmoscow Foundation for Contemporary Art announce the name of the Ruinart Art Patronat grant winner, a young artist Margo Trushina who will get a chance to implement her Salon Vert project and to present it at the 8th Cosmoscow International Contemporary Art Fair that will take place at Moscow's Gostiny Dvor on September 11-13, 2020.
In the artistic practice of Margo Trushina, the general thematic range is set by the environmental agenda which is considered by the artist from the perspective of personal bodily experience and aesthetic analysis of moving through it. The Salon Vert project will serve as a metaphor for the current state of the world. Within a specially designed construct, Margo Trushina will create a mythical garden with plants and singing stones as the main characters telling not only about the abundance of nature but also about its fragility. Each of these hybrid objects will have its own "voice", which will sound at a touch or triggered by the audience moving around. The sound landscape for the installation will be created together with the Playtronica Laboratory, a team of artists who use a combination of sounds and touches to study the connections between people.
Margo Trushina:
"For me, the Ruinart Art Patronat award is a powerful stimulus to carry on my current research. I am very glad that thanks to this opportunity I can finally work with the Playtronica team. The Nature Corner was conceived as a "green" zone at Cosmoscow suited for relaxation and a brief disconnection from the surrounding fuss. In this project, interaction with the audience is a necessary element, and the implementation of this installation as part of the Cosmoscow fair will become an important condition for its existence."
The Ruinart Art Patronat grant was established by the Cosmoscow Foundation for Contemporary Art in 2017 to offer support to contemporary Russian artists providing them with opportunities to create new work and evolve their practice.